Home > Report From Russia
Report From Russia,
by Sister Helen Prejean,csj
December 19, 2001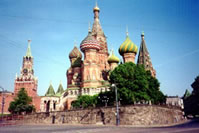 It was all amazing, going to Moscow, going to Russia.
Here I was in what we used to call "atheistic, Communist Russia," whose religious conversion I had prayed for so fervently as a Catholic child. Now, here I was in a country morally ahead of my own in abolishing the death penalty. Way ahead.

Russia, as part of its membership in the Council of Europe, enacted a moratorium on all state killings in 1997, and President Boris Yeltsin in 1999 commuted every death sentence to life
of the over 700 persons on death row. I came to Russia at the
invitation of Amnesty International, part of a team: Denise LeBoeuf, a death penalty lawyer from Louisiana and good friend, Bud Welch, whose daughter Julie was killed in the Oklahoma City bombing, and me, variously described as Catholic nun, author of Dead Man Walking, chair of the Moratorium Campaign, and alias of Susan Sarandon.

We came with a mission to appear before the Duma (Parliament), the national Clemency Board, and
the International Human Rights Film Festival to persuade Russians that it is in their best interests to take moratorium one step further and to abolish the death penalty outright. The Council of Europe has allowed Russia a transistion period in which they could enact a moratorium for a number of years, but now, five years later, time is running out and the Council of Europe is calling them to fulfill their commitment of enacting
full abolition. So far, all the decisions about the death penalty in
Russia have come from top leadership, but the Duma, representing a wide range of parties (with creative names like the Union of Right Forces) is something else.

Two months ago President Vladimir Putin spoke out
clearly against bringing the death penalty back, despite polls showing over 70% of the people supporting re-instatement. Putin said that the State can't handle the death penalty and that such life-death decisions are "best left to the Almighty," and he said that he knew too much about law to be convinced that toughening punishment ever roots out violence in a society. He even admitted - "I'm not ashamed to say this" - that after
the bombing of an apartment complex in Moscow that killed 300 people, he felt like "strangling with my bare hands" the terrorists who had killed so many innocent people. "But that's just emotion," Putin said, and explained that no law-abiding society can govern itself on emotions.
Amazing grace.
I wonder what it will take for our President to say such words, he, who as governor of Texas presided, unblinkingly, over 170 executions - even two women, one of whom was a grandmother. Now, in light of the terrorist attack on September 11, our President operates daily out of the same "search-and-destroy" paradigm in going after suspected terrorists. "I want Osama bin Laden dead or alive," he says.
As we testified before the Duma, it soon became clear that almost every word out of our mouths was new information to our listeners. That was my big surprise. I thought Russians would be cynical about the U.S., but I soon saw that they have a very idealized notion of our country, whose freedoms and material abundance they long for. Everything we told them about the practice of the death penalty was revelation: the 98 innocent persons freed off of death row in the last 25 years; the almost exclusive application of the death penalty for poor people who kill whites, the legalization of death as punishment for the mentally handicapped and juveniles.
Before the Clemency Board -which is a REAL clemency board appointed by the President and composed of psychologists, doctors, lawyers, and artists - the shock registered on their sensitive faces when Denny described the way "clemency" boards operate in the U.S.: each of them stacked with political appointees of the governor, who seldom, if ever, deviate from a political agenda. No wonder, Denny told them , that you can count on one hand decisions of clemency in the U.S. over the past 20 years, and I told them how much I dread appearing before the Pardon Board of Louisiana because it is such a sham, and how glad I was when Dobie Williams, the last man I accompanied to death by lethal injection in Louisiana, refused to appear before the Pardon Board. He wanted to spare his mother's going through the farce and losing her dignity. Why put her through that? he asked. I told them of Robert Sawyer, a severely retarded man, appearing before the Louisiana Pardon Board, whose lawyers could show his servere brain impairment on an MRI scan. "He knows right from wrong," they said, and summarily stamped approval for his execution.

The head of the Russian Clemency Board, Anatoli Pristavkin, is one of my heroes. This was our third meeting because he had attended a conference in Padua, Italy, sponsored by the Community of St. Egidio, and we had both testified on a panel. I remember his stories and his courage. He single-handedly had saved human beings from execution in Russia before the moratorium was issued because he steadfastly refused to
sign any death warrants, despite intimidations of all kinds and threats on his life. He also testified that in the application of the death penalty in Russia, no rich mafia persons ever even came up for trial. Only poor people get death at the hands of the state, he said, which sounded familiar. Now, he continues to head the Board, and every time I'm with him my soul feels lifted by his compassion and his integrity.
He and I had a special moment at the Film Festival. I gave a short talk on the opening night of the festival and after the first film was shown there was a no-holds-barred Russian banquet with lots of caviar, smoked salmon, pickled herring and mushrooms - and vodka. Plenty jovial spirit and many toasts, preceded by banging of silverware on glasses to get people's attention. I had a great time and discovered the unquestionable link (probably going back to Paleolithic times) between these jovial Russians and Cajuns in Louisiana. Just substitute boiled crawfish and shrimp for the salmon and the mushrooms and you've got it. And the special moment with Anatoli came about at the end of the meal when a guys at at the piano and began to play and Anatoli swooped me onto the floor and we danced. Denny was saying, "No, no, no, because she had left her camera in the hotel and she lamented ever after that she had missed such a photo-op of "the USA anti-death penalty nun dancing with the Russian head of the Clemency Board." Life is swift. The current moves. Those who treasure photo-ops should always be prepared.
At the film festival we met film makers of all kinds, brave and talented truthtellers, a number of whom suffered censorship and imprisonment because they exposed injustices in their documentaries. EVERYBODY has suffered under the totalitarian regime in Russia. See that man? Sasha said to me, and I looked at a middle-aged man sitting at the banquet table. "His wife was sent to a gulag for 10 years for saying that she believed in Christ." See him, the older man there? she said. He was a famous actor, but he came into disfavor somehow and was in a gulag for 20 years in Siberia where it is so freezing cold. He was allowed one package a year from his family, but by the time his package was delivered to him, months after it had been sent, all the items his mother had sent were frozen into a tight ball - cigarettes, cookies, socks - one frozen ball. And do you know what he did? Little by little he ate everything in the ball, picturing each item as his mother's hands had placed it in the package. He ate the cigarettes, the socks, everything.
Some persecutions are very recent. I am introduced to a man, blinded in one eye, who had spent time in the gulag, whose son mysteriously disappeared and was killed last year. Who did it? Are the KGB still doing these things? I ask. Is it the mafia? I get a shrug. Nobody knows. You can never track these things down.
On the last night of the festival Dead Man Walking was shown, and I introduced the film, telling stories of how the film came to be, that Susan Sarandon was the "midwife" of the film because she had so urgently believed that it needed to be made and had pestered Tim Robbins for six months until he finally read my book. On the night before Dead Man was shown, we had spoken at the law school of Moscow University and invited the students to come, and several of them came. They are generally taught by right-wing professors at the law school and our discussion with them after our talks had been lively with a number of them making passionate speeches in support of the death penalty. After the film, they came up to Denny and me to talk, and one young woman said, "We need to do something about crime, but not THAT (execution.)

It happens all the time. The film helps people reflect. It helps them see the death penalty close up. I've seen the film maybe ten or twelve times now and I'm still moved by its power. When I got home I faxed Tim and Susan a note, thanking them again for the film. Do you know what you've done? I said to them. You've given the world a human rights film that is a classic. It will endure and continue to help people reflect on the death penalty. Susan had videotaped a message to the festival, and there she was on this huge screen, bigger than life, her beautiful, strong self, talking to the Russian people and praising Putin for his moral leadership on the issue of the death penalty.
I made a Russian friend for life - Alexandra (Sasha) Sviridova. She makes amazing documentaries about poets and dissidents. As a goodbye gift she gave me an icon of Mary , which comes from the very oldest church in Russia. The icon sits before me now near a lit candle as I write this. Sasha says that 800,000 Jews fled persecution in Russia and now live in New York, where she lives. She's interested in getting a theater site where human rights documentaries like hers can be shown. At present there is a tiny theater where such films are shown, but she's looking for a larger site. I promised to talk to my friend Tim Robbins about her idea. If there's anybody out there reading this who has contacts in New York and can help to get such a site, contact me.
My good friend, Sister Marya Grathwohl, also came with us to Moscow. I was allowed a companion and I asked her. She's a Franciscan Sister who has worked among Crow and Northern Cheyenne people in Montana for over twenty years, and she secures for me a writing space in their Prayer Lodge. Amnesty put us up at the Budapest Hotel in Moscow, which was a great hotel except for the beds. The mattresses must have gotten lumpy because they were - well, missing - and we basically slept on the box springs, with only a thin pad under us. But in the course of the days we commandeered some extra blankets and thickened our thin little pads.
We had two days for sightseeing. Our hotel was within walking distance of the Kremlin and we spent a whole day there, amazed to stand in Red Square and in the exquisite cathedrals of the Annunication and St. Basil's which, from a distance, with its multi-colored onion domes looks like the Magical Kingdom. One evening we attended evening prayer with icons and incense and angelic singing in four parts, the mystical chant for which the Russian Orthodox Church is known. I recognized it immediately because the St. Egidio Community has incorporated it into its prayer. I lit a candle for the men and women on death row in the United States, especially Manuel Ortiz (innocent, I believe) whom I presently visit in Louisiana.

The churches are filled with colorful, serene icons - everywhere - and I wanted to spend days and days just looking and being
quiet and letting them reveal their inner meaning. That's what icons do. They help you pray. You have to be present to them and quiet and, in time, they reveal themselves to you. Spiritual eyes see and spiritual hearts hear: that's what icons are about. Russia is permeated with spirituality. It's even in the bitterly cold weather. No frills in such cold. Only essentials. And then, ahhh, the warmth of being inside and a table set and a cup of hot tea or borshch - and the faces of friends. It makes you treasure community.
The Amnesty team that brought us to Russia are an amazing trio: Mariana Katzarova (point person and leader of the team who overcame numerous obstacles to get us to Russia), Friedrike Behr, and Nathalie Losekoot, who worked behind the scenes to get visas, secure information from the Duma about schedules (no small challenge), line up translators - a host of things. On the last night at our final meal we made many toasts and gave many speeches and our hearts were full of thanks. We became friends
for life, and promised each other to meet again, somehow, and declared our readiness to participate in any other human rights mission that Amnesty wants to sponsor (maybe China for the olympics in 2004).
One announcement: the PBS documentary on the making of the opera, Dead Man Walking, will air on January 14 at 9p.m. (Central time). It is called, "And then one night." Jake Heggie, the composer of the opera has seen it and says that it is very well done, combining excerpts of the opera with interviews of real people on both sides of the suffering (death row inmates' and murder victims' families). I hope you get to see it.
I have a hunk of time during the holidays for writing on my new book, INNOCENCE BETRAYED. I hope to have the manuscript completed by April, then editing during the summer, then publication in the fall. The book gathers force as I write it. I believe it will do its part to change consciousness about the death penalty in America.

Support for the death penalty in the U.S. continues to drop, and The Moratorium Campaign with our great staff (all young, all committed) and volunteers keeps on going. Talks are given, people awaken, hearts are stirred, petitions are signed. If you haven't done so already, join this fight for fairness and justice by signing the petition and become a member of The Moratorium Campaign.
Blessings on you in this holy season. May you love with integrity, live with joyfulness, and expend the energies of your life engaging in essential deeds that help to transform our suffering world.

Sincerely,
Sr. Helen Prejean, csj
Author of Dead Man Walking